The "woman trapped" tagline dates back to when I first came to New York City to become a stand-up comic. Certain physical concerns, which now seem minor, had been worrying me. Getting laughs made me feel better. Thus, I learned early on that comedy is about healing. I also learned that doing stand-up comedy is a way to love yourself -- or at least a way to have have more fun hating yourself.
It sounds less funny, but "human trapped inside a human consciousness" might be a good tagline. It suggests gender is not always what it's cracked up to be.
The tape featured here is from an audition, which I passed, at the Broadway Comedy Club, located a bit northwest of Times Square. The jokes are mainly of the one-liner variety; in extended performances, especially at colleges, I will tell longer stories and do more crowd work. Overall, the tape is a rare happy mix of killing and looking good. My deadpan expression and crossed arms remind me of the old-time comedian Jack Benny, whose timing and wit I've always admired. No disrepect to the club, but the brick background is fake. My earrings: clip-on.
I used to work as a waitress. Before that, I was a waiter.* I am probably the only woman of transsexual experience ever to appear on NBC's Last Comic Standing. My comedy draws on experience in many compelling roles: college English professor, published fiction writer, journalist, first-generation collegian, only child, thinker, dreamer. Dozens of colleges and universities in all regions of the U.S. have welcomed me to their hallowed halls, and the University of Cambridge in England had me participate in a comedy debate at their venerable Union Society. Recent accomplishments: finished reading Ulysseys; volunteered at a homeless shelter; became one of an increasing number of American women to take up golf. December 2018 was my tenth anniversary "post-op." Woot!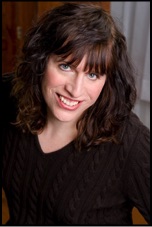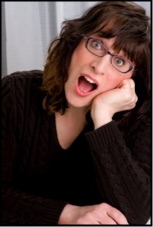 * Editor's note: Jim Gaffigan likes that joke. I'm not kidding. I told it one night at the Broadway Comedy Club, and unbenowst to me, Gaffigan was waiting in the back of the room, about to go on. I came off stage, and from the darkness emerged the famous comedian's great pale shape. He whispered in my ear, "That waitress/waiter joke is terrific." Show biz!
Though the rather vague term "alternative comic" probably applies to me, all sorts of audiences find me funny and interesting. I have notched scores of successful performances at NYC comedy clubs such as Carolines, The Comic Strip, and my home venue, the Broadway Comedy Club.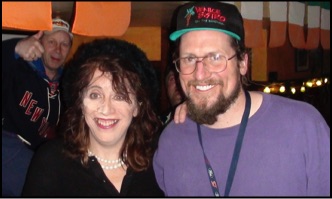 The Advocate gave me a real vote of confidence several years ago, as I struggled to establish myself in the comedy world, naming me to one of its "Comics You Should Not Have Missed" lists. The Advocate also included me among the "Five Hottest Transgender Comics." Hot, in what context? I don't care.
Trying new material in the English-speaking world's second-oldest university.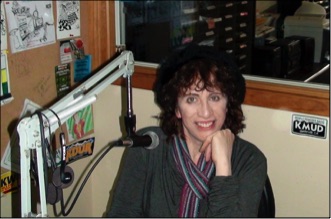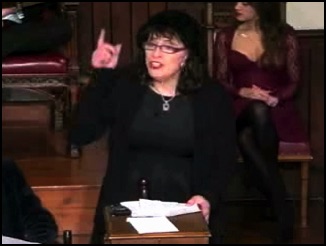 At WDBX 91.1 Carbondale, Ill., for guest spot on "Isn't It Queer?"
Artist Aaron Cohick's depiction of a "Woman Trapped" for Colorado College show.
With producer Josh Filipowski, and an unidentified Rangers' hockey fan, at 2015 Comedy March Madness after-party.
Headshots by James Shubinsky, NYC.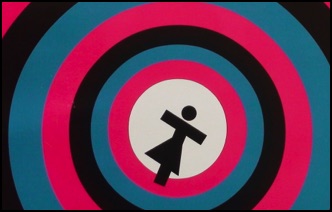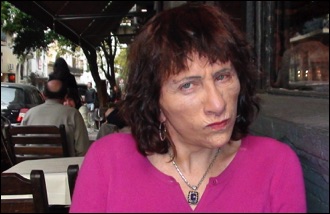 In Buenos Aires, recovering from plastic surgery "face job."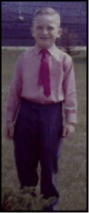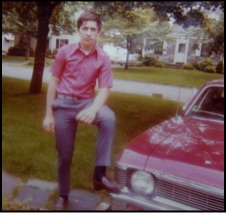 These old photos of me makes me picture a young Don Draper (of the Mad Men television series).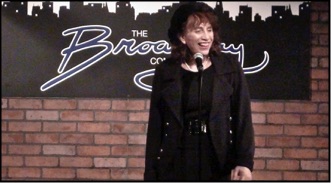 Black is the new black: Looking good in the main room of the Broadway Comedy Club.
Woman trapped inside a woman's body.